Welcome to our online shopping page, we now provide easy and secure online ordering using PayPal. Please follow the instructions below to place your order.
1- Select the product you are shopping for, select the size, click add to Cart button.
2- A page will now open in PayPal showing your selected item (you can adjust the quantities in PayPal or remove the item).
3- If you would like to purchase additional products click the "Continue Shopping" button.
4- If you wish to checkout at any time click the "View Cart" on our website or "Checkout" buttons on PayPal
5- Once your order is placed you will receive a confirmation from PayPal.
Please note packaging may vary from what is shown
WE ARE UNABLE TO PROCESS INTERNATIONAL ORDERS (DUE TO SHIPPING COSTS) THROUGH OUR ONLINE STORE
PLEASE CONTACT US DIRECTLY TO PLACE YOUR ORDER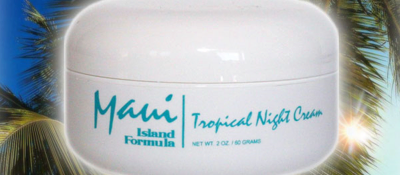 Tropical Night Creme
Imagine a warm tropical night. Your body is relaxed, rested and rejuvenated. This concentrated formula combines the richest ingredients including passion fruit extract & silk protein, coconut, macadamia, passion fruit & kukui nut oils. To be used nightly on stress lines and dry, cracked skin. Lightly scented with Passion Flower.